ROCK DUST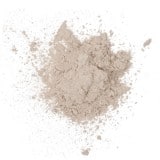 "By combining sensible doses of variably-sourced mineral-elements, (both land & sea, in proper ratios), your soil be enriched with an optimum blend of mineralizing bio-boosters. Provide a super-charged element banquet for microbes to feast on, and they will respond by powering your soil's entire web-of-life cycle in a positive and healthy manner!"
ROCK BOX PLUS: TEA, MYCORHIZZAE & ROCK-DUST COMBI-PACK: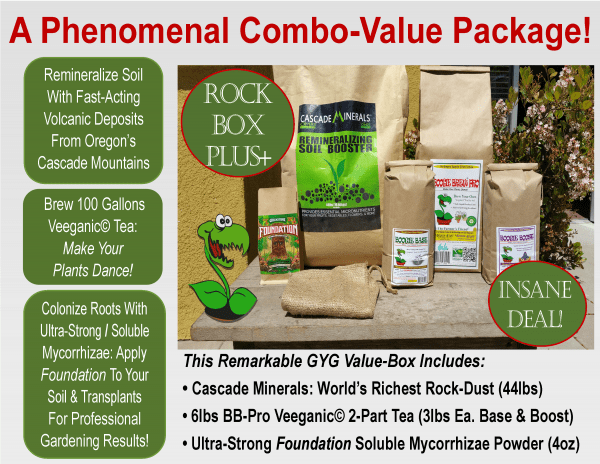 AZOMITE PLUS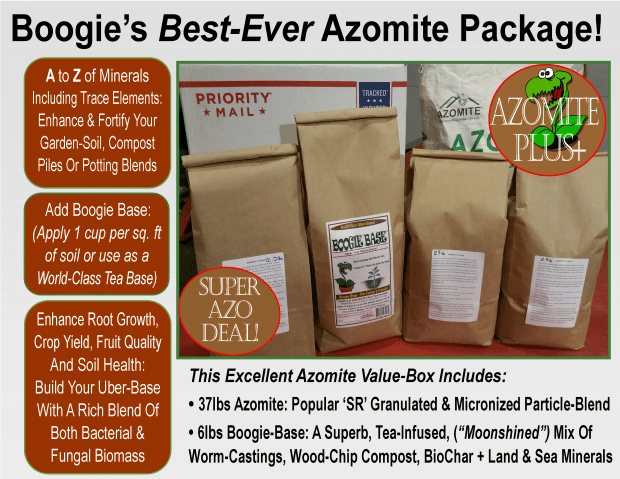 Combine 85%-90% terra-formed elements, (volcanic/clay/glacial etc.) with approximately 10-15% seawater minerals, for a dynamic duo of mineral success: Apply liberal quantities of both fast and slow-release rock-dusts, (eg: Elemite/Azomite plus Cascade Minerals), directly to soil and around the base of your plants, with small doses of SEA-90, (just a one-time SPRINKLE, or 'thimble/thumb-full'). You can also use SEA-90, (sparingly!), at one teaspoon per gallon in water or compost-tea solution; apply this way as a beneficial soil-drench just once per month.
CASCADE MINERALS
The BEST granulated-mineral value!
A granulated, true Volcanic Basalt fertilizer and soil amendment.
* Provides all natural essential minerals & trace elements that plants require for optimal growth and vitality
* Remineralize soils, fortify composts and boost plant performance with this high quality, granulated rock dust
* 3% Calcium (Ca), 1% Magnesium (Mg), 7% Iron (Fe) & essential micronutrients
* Made in the foothills of Oregon's legendary Cascade Mountains.
* Includes 44lbs of rich, dark mineral matter; Sample (0.5lbs) BB Tea; Burlap brew bag.
COMBO-DEAL: Buy Cascade Minerals and Elemite together for only $99
Note: ELEMITE ships separately from AZ and will arrive in its own Priority Mail Box.
WASATCH MINERALS ELEMITE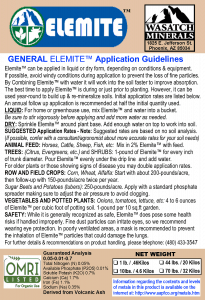 Ultra-soluble, super-fine mineral powder from 100% Volcanic rock-ash. PLEASE APPLY CAREFULLY AND ALWAYS USE THE INCLUDED N-95 PARTICULATE-MASK: Although Elemite consists of healthy, colloidally-charged minerals which generally pose positive health effects for humans, (it actually makes a great clay/beauty mask!), the particles are of such a finely micronized & soluble consistency, that we strongly suggest the use of a proper respirator when handling Elemite in large quantities and particularly when working directly with it in your garden. No matter how benign and healthy a rock-dust's elements may be, responsible farmers should always take steps to avoid the concentrated inhalation of ultra-fine particles. Therefore, in the interest of promoting safe gardening, Boogie provides a free N-95 Particulate-Respirator with each order: Please remember to use it!
SHIPPING IS INCLUDED IN THE BELOW PRICE!
A full 2lbs BB Tea, 2lbs Sea-90, plus N95 Respirator Mask, are all included!
Please note: Elemite now ships separately, (drop-shipped from Arizona), and will arrive in a separate box via USPS Priority Mail.

COMBO-DEAL: Buy Cascade Minerals and Elemite together for only $99