ROCK DUST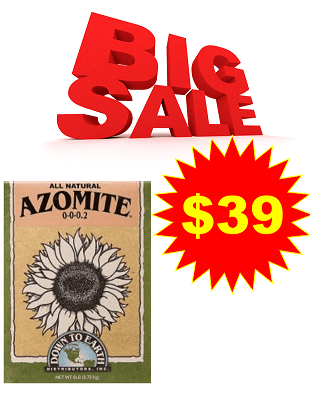 AZOMITE SR POWDER 0-0-0.2
Slow-Release grade of AZOMITE volcanic minerals with particle size ranging from 4 to 200 mesh. Ideal for blending with other materials and amendments as a trace mineral resource to help meet complete plant nutritional needs. An economical way to fortify and re-mineralize soils, composts and potting mediums.
Weight: 44 lbs/bag. Limit 3 bags/order
WASATCH MINERALS ELEMITE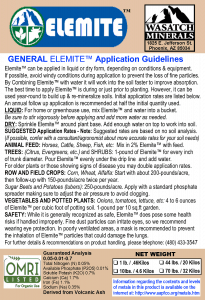 "THE BEST MINERAL BANG FOR YOUR SOIL BUCK!"
ELEMITE is THREE TIMES HIGHER in potassium, and also contains higher doses of other valuable minerals than competing volcanic ash-sourced products. A higher C.E.C, (Cation-Exchange Capacity), means more of those essential elements will be utilized by your plants….Add in the bonus bag of 6-lbs of SEA-90 minerals, (a $15.00 value), plus a sample Boogie Brew compost tea along with an N95 respirator mask, (critical for safe application of organic particulates),…..and our Elemite Rock-Box deal is easily the THE BEST MINERAL VALUE on the market today!!
Description:
Elemite can be applied in liquid or dry form, depending on conditions and equipment. If possible, avoid windy conditions during application to prevent the loss of fine particles. By Combining Elemite with water it will be worked into the soil faster to improve absorption and effectiveness. The best time to apply Elemite is during or just prior to planting. However, it can be used year-round to build up and re-mineralize soils. The initial application rates are listed below. An annual follow-up application is recommended at half the initial quantity used.
Ultra-soluble, super-fine mineral powder from 100% Volcanic rock-ash. Wasatch Minerals 'Elemite' is excellent for soils in need of a 'fast-acting' (quick-release) mineralizer. This stuff is the most water-soluble volcanic-mineral powder we have seen yet. In Boogie's own test-bed patches, Elemite has rocked plants fast! PLEASE APPLY CAREFULLY AND ALWAYS USE THE INCLUDED N-95 PARTICULATE-MASK, (we include one with each bag). Although Elemite consists of healthy, colloidally-charged minerals which generally pose positive health effects for humans, (it actually makes a great clay/beauty mask!), the particles are of such a finely micronized & soluble consistency, that we strongly suggest the use of a proper respirator mask when handling Elemite in large quantities and particularly when working directly with it in your garden. No matter how benign and healthy a rock-dust's elements may be, responsible farmers should always take steps to avoid the direct and concentrated inhalation of ultra-fine particles. Therefore, in the interest of promoting safe & responsible gardening practices, Boogie provides a free N-95 Particulate-Respirator with each bag of Elemite that we sell: Please remember to use it!
Because Elemite is so soluble, it makes a terrific additive to compost teas: Add to Boogie-Tea, (1/4 to 1/2 cup or so for each 5 gallons of full-strength tea), or to your home-made brew as a premium mineral-broth to promote increased bio-activation & organism-activity. Elemite can be reliably watered in as a "mineral-milk" content in solution, (shake your watering can as you are watering to keep the clay-particles suspended in diffusion, etc).
Combine 85%-90% terra-formed elements, (volcanic/clay/glacial etc.) with approximately 10-15% seawater minerals, for a dynamic duo of mineral success: Apply liberal quantities of both fast and slow-release rock-dust directly to your soil and around the base of your plants, along with small doses of SEA-90, (just a one-time SPRINKLE, or 'thimble/thumb-full'). You can also use SEA-90, sparingly, at one teaspoon per gallon in water or compost-tea solution, and apply as a soil-drench just once per month or so. By combining sensible doses of variably-sourced mineral-elements, (both land & sea, in proper ratios), your soil be enriched with an optimum blend of mineralizing bio-boosters.
Provide a super-charged mineral banquet for microbes to feast on, and they will respond by powering your soil's entire web-of-life cycle in a positive and healthy manner!
Guaranteed Analysis
0.05-0.01-0.7
Total Nitrogen (N) 0.05%
Available Phosphate (P2O5) 0.01%
Soluble Potash (K2O) 0.7%
Calcium (Ca) 1.7%
Iron (Fe) 1.1%
Sodium (Na) 0.35%
Derived from Volcanic Ash

CASCADE GRANULATED MINERALS

The BEST granulated-mineral value!

A granulated, true Volcanic Basalt fertilizer and soil amendment.

Provides all natural essential minerals & trace elements that plants require for optimal growth and vitality.

Remineralize soils, fortify composts and boost plant performance with this high quality, granulated rock dust.

3% Calcium (Ca), 1% Magnesium (Mg), 7% Iron (Fe) & essential micronutrients.

Made in the foothills of Oregon's legendary Cascade Mountains.

Includes 44lbs of rich, dark mineral matter; Sample (0.5lbs) BB Tea; Burlap brew bag.

GYG discount price

Buy Cascade Minerals and Elemite together for only $99