Thank you for shopping at Boogie Brew Online Store. For being a highly-valued Growing Your Greens Customer, Boogie Brew is proud to offer GYG'ers several privileged package-pricing deals:
BE SURE TO USE THE RIGHT ADDRESS FOR THIS PAGE:  
IF you found yourself  "parked" on the identical .COM page address, (boogiebrewDOTCOM/gyg), then YOUR SHOPPING CART WON'T WORK! (It will try forever to keep 'adding', but the cart stays empty).
Primo Hydrolysate 5-12-14
ORGANIC FISH FERTILIZER MADE FROM COD FISH HYDROLYSATE
Most complete organic fertilizer, fulfills 70-80% of plant nutritional needs
Highest amino acid profile, 80% L-amino acids, will not burn leaves or roots
PH Perfect,5-12-14, high in macro- and micro-nutrients, high in enzymes
Completely water-soluble and non-toxic to surrounding environment
Rapid results, cost-effective, easy to apply, apply infrequently
There are three sizes:
Small:
1 lb Primo Hydrolysate
1 lb Frass
1 lb Rainbow Mix
3 lb Tea
Medium:
2 lb Primo Hydrolysate
2 lb Frass
2 lb Rainbow Mix
6 lb Tea
Large:
4 lb Primo Hydrolysate
4 lb Frass
4 lb Rainbow Mix
16 lb Tea
---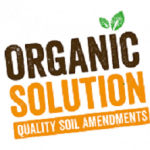 The best commercially-available castings on planet earth!
OGS Castings: Here's the Organic Solution.

• Vastly improve soil structure.
• Reduce irrigation cost up to 50% by retaining moisture in the soil.
• Promote beneficial microbial activity that result in healthier plants.
• Reduce the carbon in the soil and increase the nitrogen levels.
• Completely safe to use around children & pets.
• Will never burn plants, unlike animal manures or fertilizers.
• Helps draw out toxins, harmful bacteria and fungi from the soil.
• OGS Castings help neutralize pH levels.
• Nutrients found in OGS Castings last 6 times longer than nutrients in potting soil.
• Earthworms act as a natural filter, filtering out impurities, chemicals, etc.
• A perfect soil conditioner with naturally balanced levels of minerals & nutrients.
Boogie Budget Brew-Kit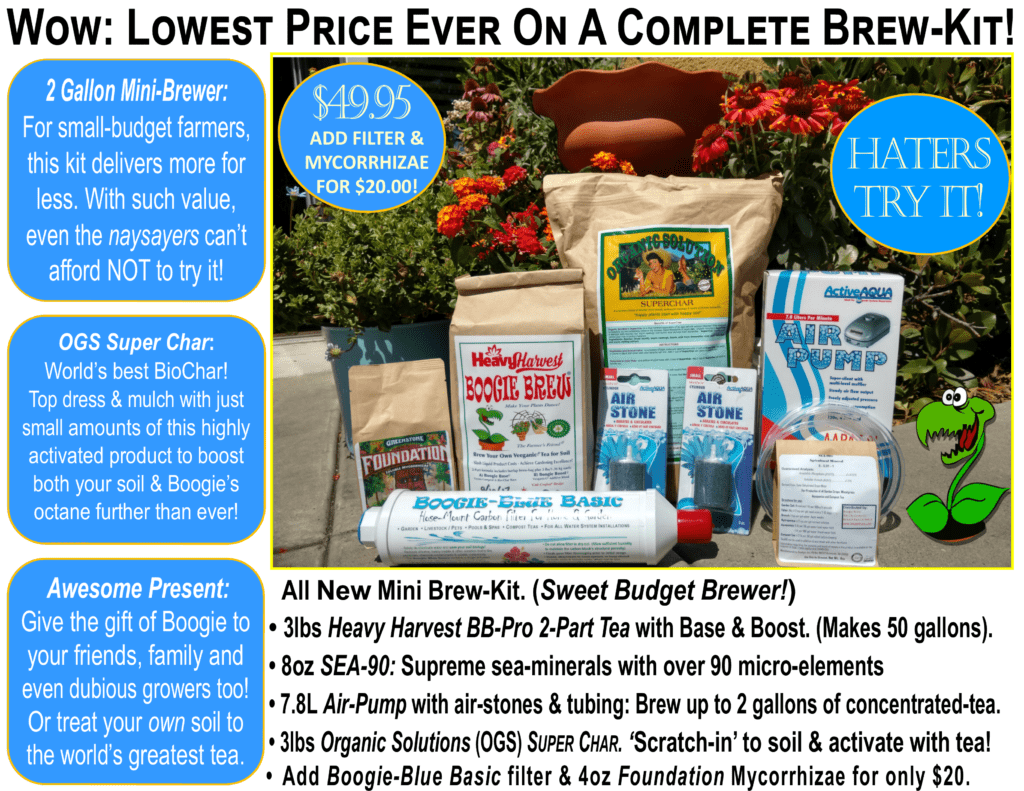 Boogie-Box Pro Kit or Pro-Deluxe Kit
Note: The Brew Kit specs now include 6 lbs of Heavy Harvest Boogie Brew Tea, (enough to brew 100 gallons of full strength tea), plus OGS High-Bio Castings, BoogieFrass & Boogie Brix too! The fish protein or vegan amino acid products are an additional option. You may add an extra air-stone & air-tubing. Boogie Blue Chlorine Filters are available with the Pro-Deluxe Brew Kit or sold individually. 
Chlorine-free water is essential for brewing the most biologically active compost tea but also for watering your garden to protect the microorganisms that live in your soil. Boogie Blue Chlorine filters, available in your choice of BASIC, CLASSIC, (Original) & PLUS+ models, are available with the Pro-Deluxe Brew Kit or sold individually here: http://www.boogiebrew.net/water-filter/.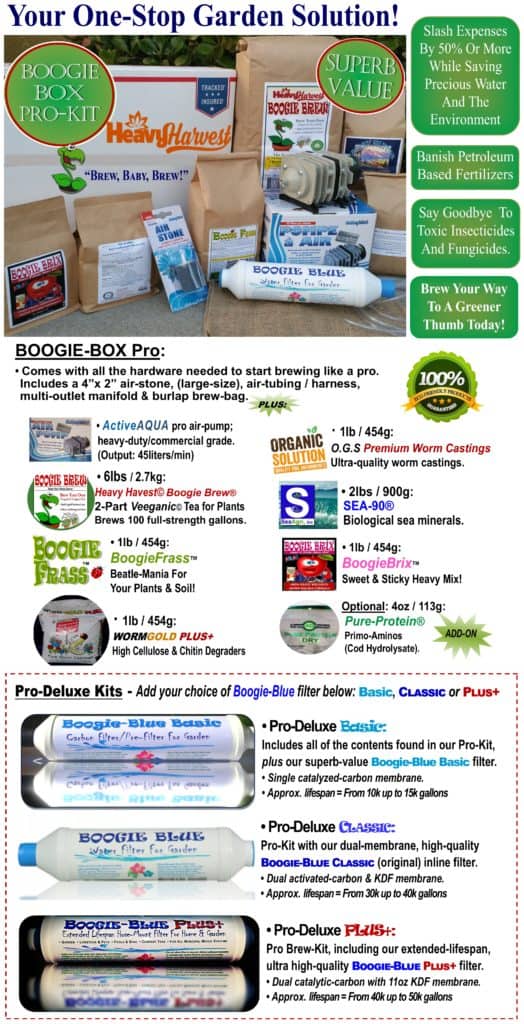 Pro Brew Kit (without filter)
Pro-Deluxe Kit (with your choice of Boogie Blue Filter Model)
Water Filters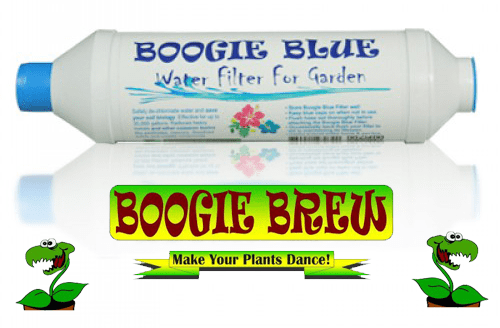 WORM BOX
– "The best vermi-bang for your soil-buck!"
OGS' Supreme bio-profile boosted with WGP's excellent Chitin & Cellulose Degraders: A dynamic duo of horticultural-success.
Massively boost plants' immune system with diverse populations of beneficial organisms from the best of both Worm-Worlds!
Dual worm-sources create an even healthier substrate and optimum growing environment. (Healthy plants have less problems).
Maximum bang for your worm-buck with Boogie's repackaged 16 qt bags. (2 x 8 qts ea. OGS & WGP = 32 qts of Vermi-Excellence!)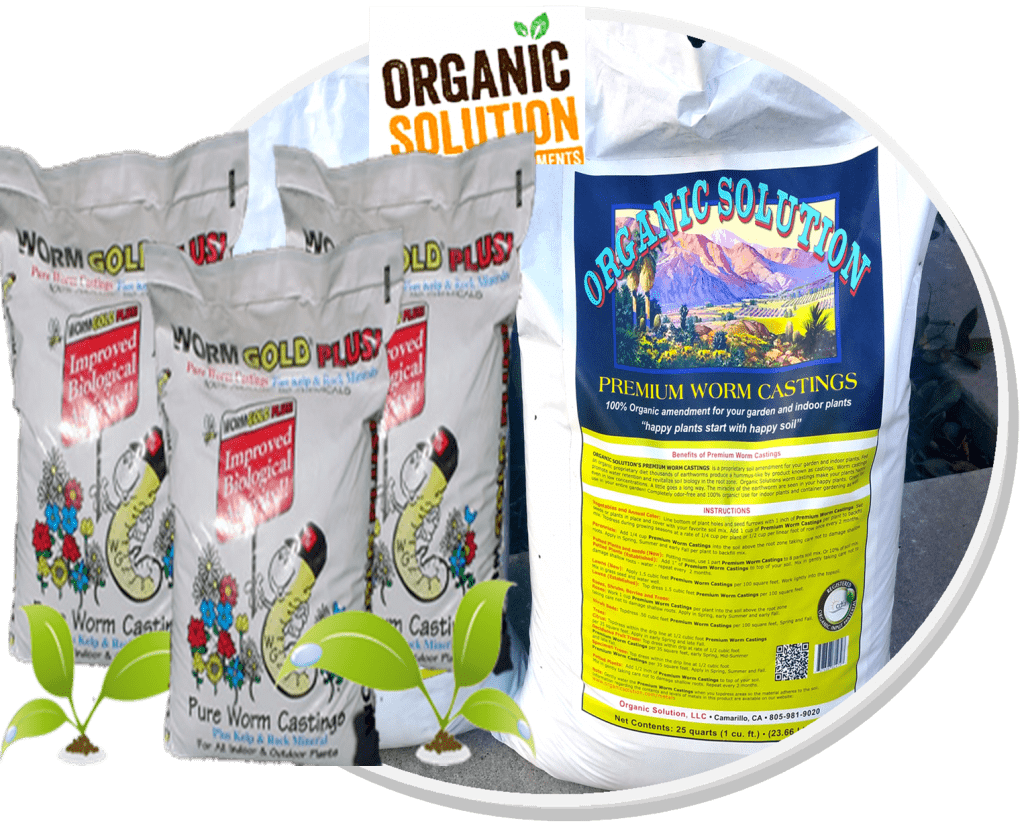 – Phenomenal soil conditioners and excellent sources of microbially-digested, plant-food, Organic Solutions' super-bio-active castings & WormGold+'s high-chitinase castings come pre-loaded with additional minerals, (derived from volcanic ash), PLUS fossilized kelp, (rich in bio-available calcium). In addtion, Meal Worm FRASS, (rich in chitin) and CBD Minerals are added to the OGS Castings feed stock; this greatly increases enzymes and broadens the biology of this dynamic Vermi-Duo to far greater levels than other commercially-available castings.
– 32 QTS / 16 qts lbs WG+ (2 bags @ 8QTS ea.) Plus 16qts Organic Solutions Castings (2 x 8qts ea)
– Sample Boogie Brew Tea (brews 5 gallons @ 0.5lbs ea).
– Includes Burlap Brew Bag, all at a delivered price of only $37.50[/one_half_last]
– Use approximately 1lb of OGS Castings with WGP  for each 5 to 10 square feet of garden-space. (Apply at a rate of 10% to 20% of cubic soil-volume). For top results, use in conjunction with weekly tea applications. Add a cup of OGS or WGP to 5 gallons of concentrated Boogie Brew for a phenomenal tea boost! Combined with Boogie Brew, WormGold+ and Organic Solutions will take your garden to new levels of biological excellence!
ORIGINAL GYG PACKAGE DEALS: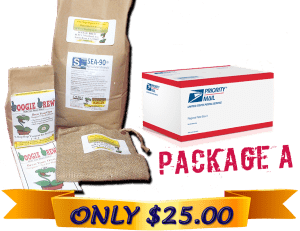 Package A
1) 10lbs of Sea-90 Ocean-Minerals
2) 1/2lb bag of Boogie Brew Tea, (brews aprox 10 gallons)
3) One 6″x10″ burlap brew-bag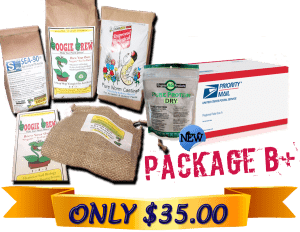 Package B Plus
1) 3 lbs of Heavy Harvest Boogie Brew Tea, (brews approx. 60 gallons)
2) One burlap brew-bag
3) 2 lbs of Sea-90
4) 2 lbs of Worm Gold Plus
5) 4 oz of Pure Protein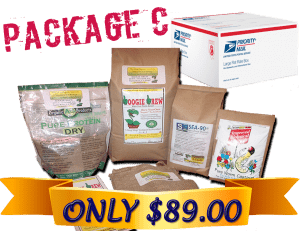 Package C
1) 6-lb Heavy Harvest Boogie Brew Tea (1 burlap included)
2) 2-lb Worm Gold Plus
3) 4-lb Sea90
4) 1-lb Pure Protein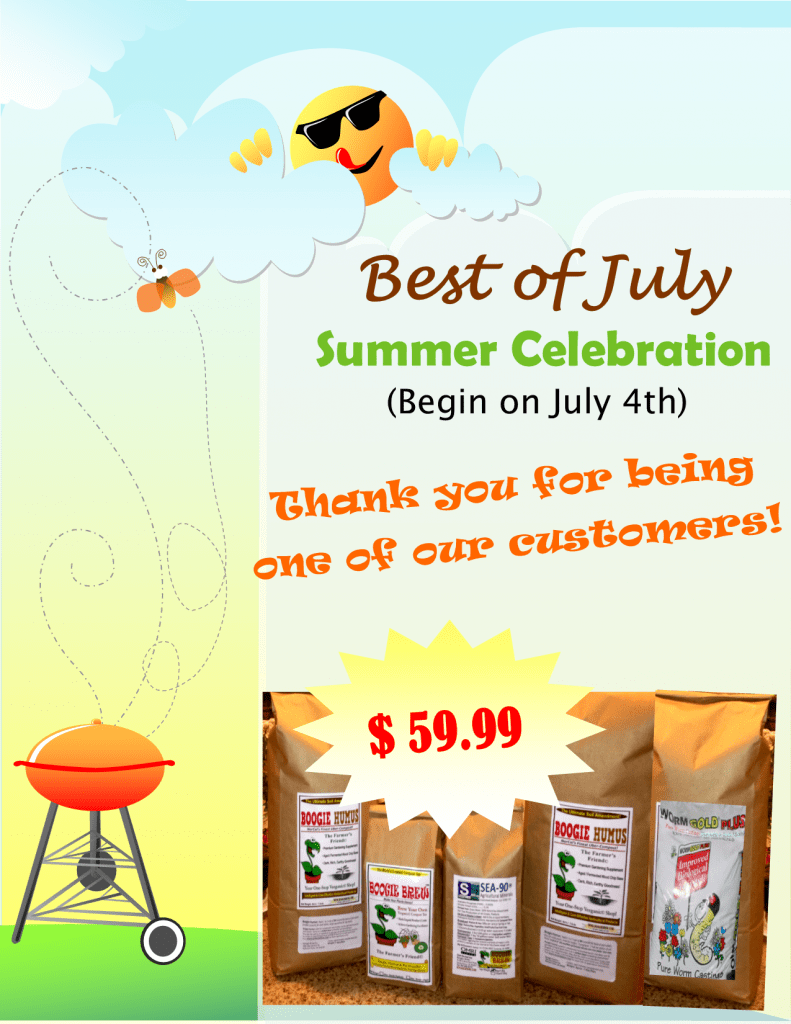 BEST OF JULY
1) 7-lb Boogie Base (quantity: 2)
2) 8-lb Worm Gold Plus
3) 4-lb Sea90
4) 2-lb 1part Boogie Brew Tea (1 burlap included)
WASATCH MINERALS ELEMITE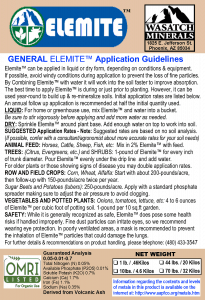 Description:
Ultra-soluble, super-fine mineral powder from 100% Volcanic rock-ash. PLEASE APPLY CAREFULLY AND ALWAYS USE A PARTICULATE-MASK. Although Elemite consists of healthy, colloidally-charged minerals which generally pose positive health effects for humans, (it actually makes a great clay/beauty mask!), the particles are of such a fine consistency, that we recommend using a proper respirator mask for handling Elemite.
SHIPPING IS INCLUDED.  A full 2lbs BB Tea, 2lbs Sea-90, plus N95 Respirator Mask, are ALL included! 
Please note: Elemite now ships separately, (drop-shipped from Southern California), and will arrive in a separate box via USPS Priority Mail. Please allow up to an extra two weeks for delivery!
COMBO DEAL: Buy 37lbs Elemite and 34lbs CBD Minerals together with 2lbs BB Tea, 2lbs Sea90 & N95 Mask for only $89
California Basalt Deposit C.B.D. (Vintage Stone Flour) Norcal's Finest Remineralizing Rock Dust (34lbs)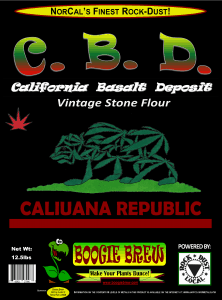 What is Remineralization? Remineralization is the utilization of natural broad elemental spectrum rock dust materials for the purpose of renewing the mineral content of soils and other growing media. Rock Dust Local has spent nearly 25 years evaluating and working with rock dusts from all over North America. After this length of time they have determined that the best rock dust for soil remineralization are Basalts and Metamorphic and Sedimentary types because of the rich diversity of minerals contained in these volcanic geologic materials. They even created an acronym for their definition of BEST: "Broad Elemental Spectrum Tectonic".  Broad Elemental Spectrum refers to the rock dust having a broad spectrum of desired minerals for soil remineralization. C.B.D. Minerals is one of the ideal basalts for this purpose because of this analysis(C.B.D Minerals Analysis…). Tectonic ultimately refers to earth shaping forces. All of these are required to make the best rock dust. FREE PRIORITY MAIL SHIPPING! – BEST ROCK DUST VALUE ONLINE! 
COMBO DEAL: 

Buy 37lbs Elemite and 34lbs CBD Minerals together with 2lbs BB Tea, 2lbs Sea90 & N95 Mask for only $89
.
A full 2lbs BB Tea, 2lbs Sea-90, plus N95 Respirator Mask, are ALL included! 
Please note: ELEMITE ships separately from CA and will arrive in its own Priority Mail Box. Please allow up to an extra two weeks for delivery!
CASCADE GRANULATED MINERALS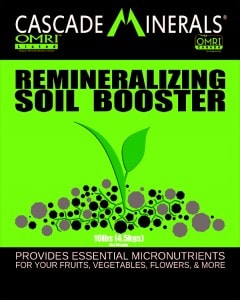 A granulated, true Volcanic Basalt fertilizer and soil amendment.
Provides all natural essential minerals & trace elements that plants require for optimal growth and vitality.
Remineralize soils, fortify composts and boost plant performance with this high quality, granulated rock dust.
Includes 40lbs of rich, dark mineral matter; CASCADE MINERALS HAVE THE HIGHEST MACRO-ELEMENT PROFILE OF ANY ROCK DUST!
BOOGIE BATTLE OF THE BUG
Description: Boogie's Bug-Battling recipe: The last word on natural & safe pest control! The tolls on human health and our environment from pesticides are horrendous and completely unnecessary to boot….After many years of trial and error, while trying-out a multitude of natural pest-control agents, Boogie's own highly recommended bug-battling formula involves the use of two crucial ingredients: by using Dr Bronner's Sal-Suds Soap & Clean Neem Oil, (mixed together and ideally applied with an Atomizing Fogger machine, or at least a high-quality pump sprayer),any grower can achieve astounding success in their garden against invasive bug species, all at ZERO cost to human or planetary health. Use these two outstanding items together and on a regular basis, (weekly or more often for serious pest pressure problems), and you too can win just about any bug-battle, in a simple, non-toxic and ultra-safe manner!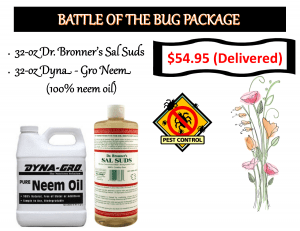 (Click on the picture to enlarge)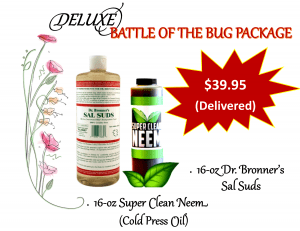 (Click on the picture to enlarge)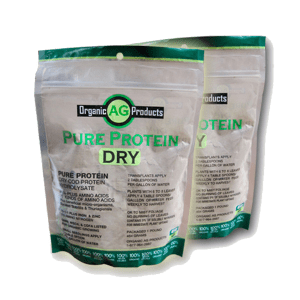 Pure Protein 1LB
1) Easy to apply
2) Cost-effective
3) Completely WATER-SOLUBLE
4) Completely NON-BURNING to delicate plant tissue
5) Totally NON-TOXIC to the environments surrounding farming areas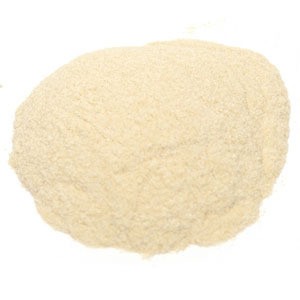 Water Soluble Soy Amino 1LB
This formulation is highly dissolvable amino acid powder derived from plant proteins. It can be used in a wide range of soils, for a wide range of turf grasses, food crops, shrubs, flowers and similar plants.
Directions: – Mix 1 teaspoon with 5 gallons of water and apply the solution directly to the soil within 1 hour of mixing. Make sure solution comes into contact with the roots of the target plant. When mixing, add water first, then the product. Agitate if possible. – Apply every 1-4 weeks or as needed throughout the growing season.
Check out more Joraform units on our composters page.

Joraform 270 Composter
Material: Insulation: 2.16 inch polyethylene plastic Panels: Galvanized and painted steel Stand: Galvanized steel Technical specifications: – Weight: Approx 86 lbs – Volume: 9,5 cubic feet (70 gallons) – Dimensions: 44,5"L, 28" W, 50" H – Capacity: 6-8 Gal/week – Suitable for: Larger households 4 per and more, B&Bs, small restaurants, kindergartens, care homes, etc.
SHIPPING INCLUDED TO US 48 STATES. (call for shipping to AK/HI)