Welcome back, GYG'ers!
Thank you for shopping at Boogie Brew Online Store. For being a highly-valued Growing Your Greens Customer, Boogie Brew is proud to offer GYG'ers several privileged package-pricing deals:
BE SURE TO USE THE RIGHT ADDRESS FOR THIS PAGE:  
IF you found yourself  "parked" on the identical .COM page address, (boogiebrewDOTCOM/gyg), then YOUR SHOPPING CART WON'T WORK! (It will try forever to keep 'adding', but the cart stays empty).

TRIM TRAY PACKAGE
"Everything you need to trim your current harvest, plus grow your next one too!"
Boogie Brew is proud to feature our exclusive 'Trim Tray' package deal: Why pay for shipping on the super handy Trim-Tray alone when you can order it bundled with a WHOLE BUNCH of awesome Boogie Products as well, and ALL at a phenomenal price to boot?
* The Heavy Harvest Trim Tray works excellent as a laptop trimming surface. Comfortable on your lap. Non-Slip. Non-Stick Base Pad. 150 micron screen standard with tray. Sift pollen off manicured flowers. Light-weight compact design. Magnifying card included with complete tray.
* Add in the incredibly practical Trim Tray and you have a deal that is simply too good to pass up!
* 2lb BOOGIE BREW COMPOST TEA (Quantity: 3)
* 2lb SEA-90 Sea Minerals (Quantity: 2)
* 2lb WORM GOLD PLUS castings (Quantity: 2)
* 2lb BOOGIE-FRASS Beetle Larvae Castings (Quantity: 1)
* 4oz PURE-PROTEIN Cod-Fish Hydrolysate (Quantity: 1)
* Trim Tray (optional)
MICRONIZED version on sale now: $1/lb DELIVERED PRICE, with an extra BoogieFrass™ sample, (1lb), thrown in for good measure……AZOMITE volcanic minerals with particle size micronized for faster uptake by your soil. Ideal for blending with other materials and amendments as a trace mineral resource to help meet complete plant nutritional needs. An economical way to fortify and re-mineralize soils, composts and potting mediums. Combine your Azo with BoogieFrass™ for amazing results in the garden!
WT: 44 LBS. SHIPS WITH 1-LB SAMPLE FRASS. SHIPPING INCLUDED.
WORM BOX
– "The best vermi-bang for your soil-buck!"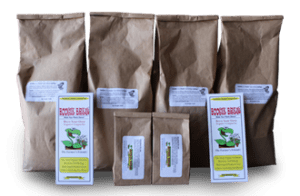 - 20 QTS / Aprox. 34 lbs WG+ (4 bags @ 5QTS ea./aprox 8.5 lbs ea). (Or: 1 large 20 qt bag)
– Sample Boogie Brew Tea (brews 5 gallons @ 0.5lbs ea).
– Includes Burlap Brew Bag, all at a delivered price of only $37.50.
– A phenomenal soil conditioner and an excellent source of microbially-digested, (slow-release) plant-food, WormGold+'s high-chitinase castings come pre-loaded with additional minerals, (derived from volcanic ash), PLUS fossilized kelp, (rich in bio-available calcium).  FRASS, (rich in chitin) is fed to the vermi-feed stock; this greatly increases enzyme levels and broadens WormGold's biology to far greater than other commercially-available castings.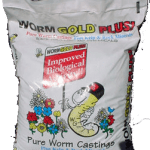 - Use approximately 1lb of WG+ for each 5 to 10 square feet of garden-space. (Apply at a rate of 10% to 20% of cubic soil-volume). For top results, use in conjunction with weekly tea applications.
Combined with Boogie Brew, WormGold+ will take your garden to new levels of biological excellence!
Please note: Depending on availability, we may elect to ship SINGLE, (individual, LARGE) 20qt bags of WormGold+ instead of 4 smaller bags. THE QUANTITY IS THE SAME AMOUNT!.  Also, please keep in mind that WormGold's weight is MOISTURE-SENSITIVE!….Depending on the ambient humidity/storage conditions/age-factors, etc, your WormGold may be LIGHTER in weight: Please understand that we will always do our best to ship GYG'ers a moister/heavier casting, however, in certain unavoidable situations, (due to only dryer product being on hand), the individual weight of your bag(s) may be lower; however, the VOLUME will always stay the same!
WASATCH MINERALS ELEMITE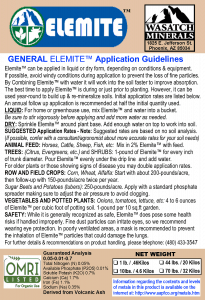 All ELEMITE boxes ship with an additional 2lbs Boogie Brew Tea, 2lbs SEA-90, plus an N95 Respirator Mask!
ELEMITE is higher in potassium and contains stronger doses of other valuable minerals than competing micronized products. A higher C.E.C, (Cation-Exchange Capacity), means more of those essential elements will be utilized by your plants….Add in the bonus bag of 2-lbs of SEA-90 minerals, ($8.00 value), plus a full 2 lb bag of Boogie Brew compost tea, ($20.00+ value), along with an N95 Respirator-Mask, (critical for safe application of organic particulates),…..and our Elemite Rock-Box deal is easily the THE BEST MINERAL VALUE on the market today!!
Description:  Ultra-soluble, super-fine mineral powder from 100% Volcanic rock-ash. Wasatch Minerals 'Elemite' is excellent for soils in need of a 'fast-acting' (quick-release) mineralizer. This stuff is the most soluble volcanic-mineral powder we have seen yet. In Boogie's own test-bed patches, Elemite has rocked plants fast! PLEASE APPLY CAREFULLY AND ALWAYS USE THE INCLUDED N-95 PARTICULATE-MASK. Although Elemite consists of healthy, colloidally-charged minerals which generally pose positive health effects for humans, (it actually makes a great clay/beauty mask!), the particles are of such a finely consistency, that we recommend using a proper respirator mask for handling Elemite. Boogie provides an N-95 Particulate-Respirator with each box sold. Elemite makes a terrific additive to compost teas: Add to Boogie Brew, (1/2 cup for each 5 gallons of full-strength tea), as a premium mineral-broth to stimulate beneficial organisms. Elemite can be reliably watered in as a "mineral-milk" content in solution, (shake your container as you are watering to keep the clay-particles suspended in diffusion, etc). Combine 90% terra-formed elements, (volcanic/clay/glacial etc.), with 10% seawater minerals, for a dynamic duo of mineral success: Apply liberal quantities of both fast and slow-release, (granulated) rock-dust directly to your soil and around the base of your plants, along with small doses of SEA-90, (just a one-time SPRINKLE!). By combining sensible doses of variably-sourced mineral-elements, (both land & sea, in proper ratios), your soil be enriched with an optimum blend of mineralizing bio-boosters. Provide a super-charged element banquet for microbes to feast on, and they will respond by powering your soil's entire web-of-life cycle in a positive and healthy manner!
SHIPPING IS INCLUDED.  A full 2lbs BB Tea, 2lbs Sea-90, plus N95 Respirator Mask, are ALL included! 
Please note: Elemite now ships separately, (drop-shipped from Arizona), and will arrive in a separate box via USPS Priority Mail.
GYG discount price
Buy Elemite and Cascade Minerals together for only $99
Please note: ELEMITE ships separately from Arizona and will arrive in its own USPS Priority Mail Box
CASCADE GRANULATED MINERALS
The BEST granulated-mineral value!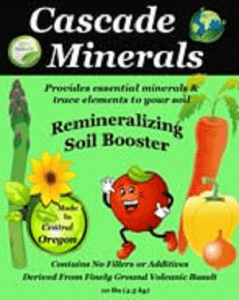 A granulated, true Volcanic Basalt fertilizer and soil amendment.
Provides all natural essential minerals & trace elements that plants require for optimal growth and vitality.
Remineralize soils, fortify composts and boost plant performance with this high quality, granulated rock dust.
3% Calcium (Ca), 1% Magnesium (Mg), 7% Iron (Fe) & essential micronutrients.
Made in the foothills of Oregon's legendary Cascade Mountains.
Includes 44lbs of rich, dark mineral matter; Sample (0.5lbs) BB Tea; Burlap brew bag.
GYG discount price
Buy Cascade Minerals and Elemite together for only $99
Please note:
ELEMITE ships separately from Arizona and will arrive in its own USPS Priority Mail Box
BOOGIE BATTLE OF THE BUG
Description: Boogie's Bug-Battling recipe: The last word on natural & safe pest control! The tolls on human health and our environment from pesticides are horrendous and completely unnecessary to boot….After many years of trial and error, while trying-out a multitude of natural pest-control agents, Boogie's own highly recommended bug-battling formula involves the use of two crucial ingredients: by using Dr Bronner's Sal-Suds Soap & Clean Neem Oil, (mixed together and ideally applied with an Atomizing Fogger machine, or at least a high-quality pump sprayer),any grower can achieve astounding success in their garden against invasive bug species, all at ZERO cost to human or planetary health. Use these two outstanding items together and on a regular basis, (weekly or more often for serious pest pressure problems), and you too can win just about any bug-battle, in a simple, non-toxic and ultra-safe manner!
LEARN MORE ABOUT RID-BUGS AND APPLICATION RATES
(If you are using a mobile device to navigate this page, please run your screen's browser HORIZONTALLY to properly view the rest of the contents!)
(Click on the picture to enlarge)
(Click on the picture to enlarge)

(If you are using a mobile device to navigate this page, please run your screen's browser HORIZONTALLY to properly view the rest of the contents!)

Boogie Blue Water Filter

1) 100% USA Made
2) Lasts from 35,000 to 45,000 gallons, depending on initial water hardness
3) Boogie Recycle Program: when your Boogie Blue Filter finally expires, (usually indicated by reduced flow characteristics), return used filter to us at address below and receive $5.00 credit certificate towards your new filter!
(Restrictions apply: Filters with cracked/broken casings and unexpired filtration capacities cannot be accepted).

Package A

1) 10lbs of Sea-90 Ocean-Minerals 2) 1/2lb bag of Boogie Brew Tea, (brews aprox 10 gallons) 3) One 6″x10″ burlap brew-bag

 

Package B Plus

1) 2lbs of Boogie Brew Tea, (brews approx. 35 gallons). 2) One 6″x10″ Burlap brew-bag 3) 2lbs of Sea-90 Ocean Minerals 4) 2lbs of Premium Worm Gold Plus 5) 4oz of Pure Protein

(Using a mobile device to navigate this page? Please run your screen's browser HORIZONTALLY to properly view the rest of the contents)

Package C

1) 8-lb Boogie Brew Compost Tea (1 burlap included) 2) 2-lb Worm Gold Plus castings 3) 4-lb Sea90 4) 1-lb Pure Protein

Best of July

1) 6-lb Boogie Humus (quantity: 2)
2) 8-lb Worm Gold Plus castings
3) 4-lb Sea90 4) 2-lb Boogie Brew Compost Tea (1 burlap included)


How to use Boogie Humus

Pure Protein 1LB

1) Easy to apply 2) Cost-effective 3) Completely WATER-SOLUBLE 4) Completely NON-BURNING to delicate plant tissue 5) Totally NON-TOXIC to the environments surrounding farming areas

Water Soluble Soy Amino 1LB

This formulation is highly dissolvable amino acid powder derived from plant proteins. It can be used in a wide range of soils, for a wide range of turf grasses, food crops, shrubs, flowers and similar plants. Directions: – Mix 1 teaspoon with 5 gallons of water and apply the solution directly to the soil within 1 hour of mixing. Make sure solution comes into contact with the roots of the target plant. When mixing, add water first, then the product. Agitate if possible. – Apply every 1-4 weeks or as needed throughout the growing season.

Joraform 270 Composter

Material: Insulation: 2.16 inch polyethylene plastic Panels: Galvanized and painted steel Stand: Galvanized steel Technical specifications: – Weight: Approx 86 lbs – Volume: 9,5 cubic feet (70 gallons) – Dimensions: 44,5"L, 28" W, 50" H – Capacity: 6-8 Gal/week – Suitable for: Larger households 4 per and more, B&Bs, small restaurants, kindergartens, care homes, etc. SHIPPING INCLUDED TO US 48 STATES. (call for shipping to AK/HI)