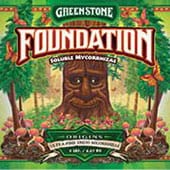 Foundation Soluble Mycorrhizae
Mycorrhizal Root Enhancement.
Foundation Soluble Mycorrhizae is a micronized mycorrhizal powder inoculum that consists of a blend of spores and 4 endomycorrhizal fungi species.
hese beneficial fungi build a natural microbial system, which greatly enhances plant growth and tolerance of environmental extremes.
Features:
The use of mycorrhizae increases the root's ability to absorb water and nutrients, while improving soil structure and plant yields.

Foundation is water soluble and can be mixed with soil or in a hydroponic reservoir.
Foundation Soluble Mycorrhizae w/ Free USPS Priority Mail Shipping