ATTENTION SHOPPERS:
Before you shop, please read carefully!
* Please allow 10-14 business days to receive your package(s). Whenever possible, bulk ingredients will be shipped immediately, but due to variations in the supply-chain / back-orders etc, it may take longer for you to receive your orders!
* Items over 25 lbs will come repackaged when shipping to East Coast including HI, AR, AK and PR.
*For customers with P.O Box addresses, items over 25 lbs will come repackaged and shipped via USPS only.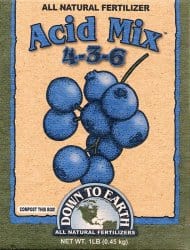 Acid Mix 4-3-6 (1.0 lb Box)
A fertilizer blended specially for acid soil loving plants like rhododendrons, azaleas, hydrangeas, evergreen trees and shrubs, blueberries, raspberries and other plants that thrive in a low pH soil. To encourage lush flowers and fruit, apply Acid Mix in early spring for vegetative growth and again when blooms appear. Late fall applications promote healthy root growth and boost resistance to extreme winter temperatures.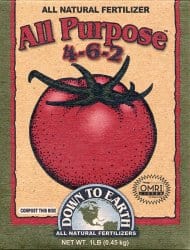 All Purpose 4-6-2 (1.0 lb Box)
A gentle, non-burning fertilizer perfect for vegetables, herbs, flowers and container plants, our All Purpose mix is also ideal for all types of transplants. Formulated with top quality organic ingredients and designed to deliver a steady supply of essential nutrients to your plants while enhancing soil fertility and microbial activity naturally. Our best selling fertilizer! Ingredients: Fish Bone Meal, Blood Meal, Rock Phosphate, Langbeinite, Greensand, Humates and Kelp Meal. OMRI Listed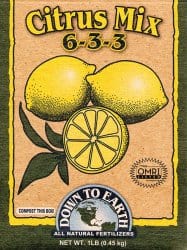 Citrus Mix 6-3-3 (1.0 lb Box)
Designed to nourish citrus trees in home orchards and containers, our Citrus Mix is formulated with primary and secondary plant nutrients plus selected micronutrients that promote lush new growth, abundant green foliage, fragrant blossoms and bountiful fruit. It may also be used to feed other fruit trees, vines and ornamentals for equally enjoyable results. OMRI Listed. CDFA Listed (Registered Organic Input Material)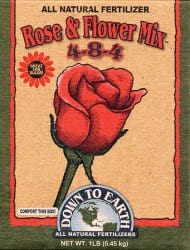 Rose & Flower Mix 4-8-4 (1.0 lb Box)
A special fertilizer blend that provides ample nitrogen for vigorous growth, extra phosphorus for beautiful blooms and potassium and trace elements for healthy plant stock, our Rose & Flower Mix supplies your favorite bulbs, annuals and perennials with the nutrients needed for a long, satisfying season of sensational flowering. Ingredients: Fish Bone Meal, Langbeinite, Blood Meal, Alfalfa Meal, Seabird Guano, Rock Phosphate, Humates and Kelp Meal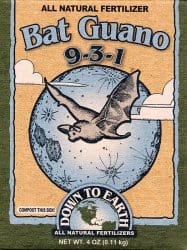 Bat Guano 9-3-1 (4 oz)
The undisputed champion of organic fertilizers, Bat Guano is rich in readily available nitrogen, phosphorus and micronutrients and provides essential plant nutrition for vigorous vegetative growth and early fruit and flower development. Bat Guano is fast acting and highly effective when mixed into potting mediums, applied as a side dress or steeped to make a potent guano tea or foliar spray.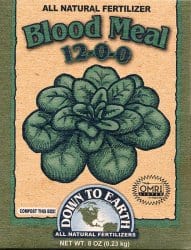 Blood Meal 12-0-0 (8 oz)
A readily available source of organic nitrogen, Blood Meal promotes rapid vegetative growth and is great for heavy feeders like corn, spinach, broccoli and leafy greens. Nitrogen is essential for all types of growing plants and an adequate seasonal supply ensures plenty of shoots, flowers, fruits and vegetables. OMRI Listed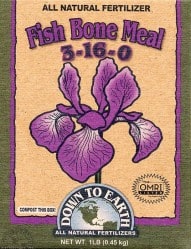 Fish Bone Meal 3-16-0 (1.0 lb Box)
A marine based alternative to traditional steamed Bone Meal that is wonderful for all flowering plants, trees and shrubs. A great source of phosphorus and calcium, Fish Bone Meal also contains a small amount of organic nitrogen and is an ideal fertilizer for new garden beds, perennials and bulbs. OMRI Listed (Organic Materials Review Listed)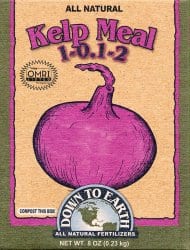 Kelp Meal 1-0.1-2 (8 oz)
Our Kelp Meal is pure Ascophyllum nodosum seaweed from the clean, cold waters of the North Atlantic Ocean. Hand-harvested, carefully dried and finely milled, our Kelp Meal provides a rich natural source of Potash and is an ideal nutrient supplement for all types of vegetables, herbs, flowers and perennials. OMRI Listed (Organic Materials Review Institute)