Caliuana Boogie Tee's
Powered by Wine Country Embroidery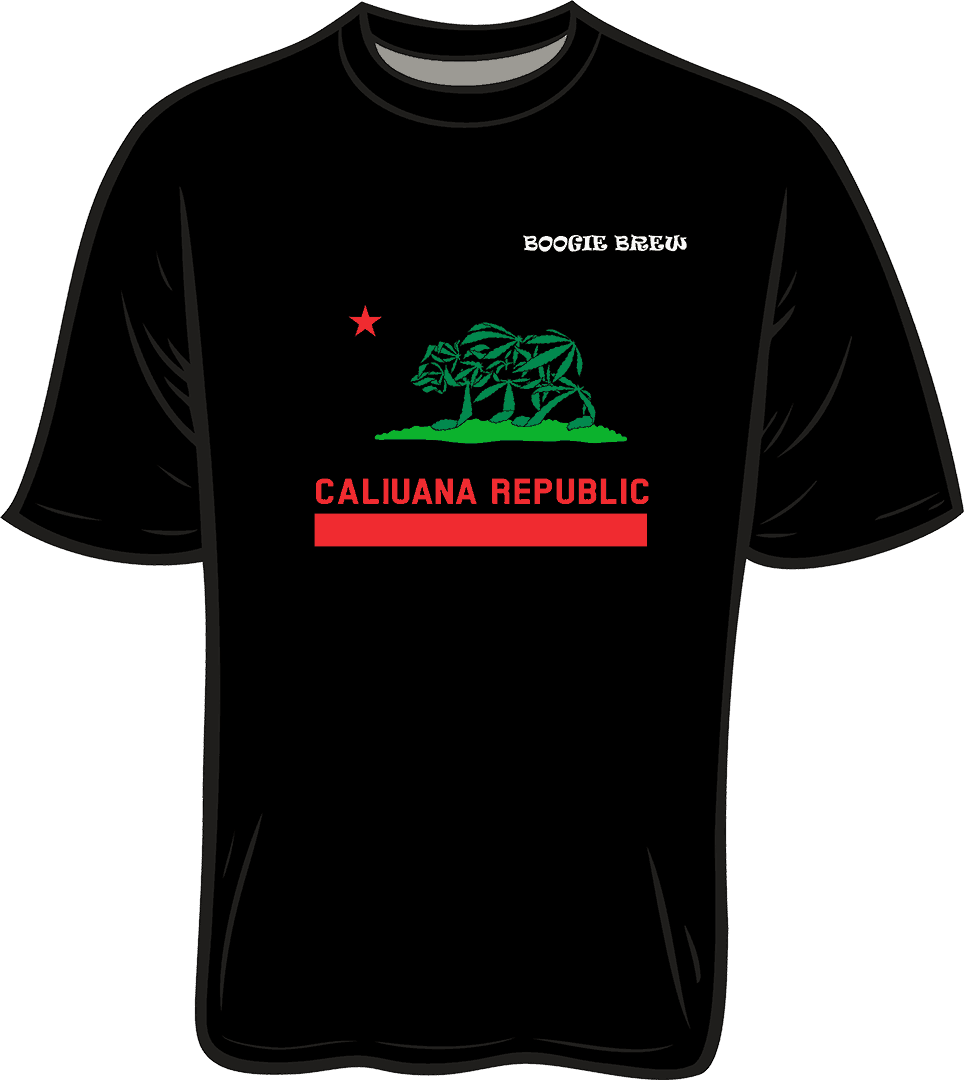 Black Royal Hemp Caliuana T-Shirt: Only $19.99 with free shipping!
Cream Harvest & Mill Organic Cotton Caliuana T-Shirt: Only $24.99 with free shipping!
Stunning artwork with Caliuana Flag prints.
Support sensible hemp & eco-farming practices while bearing the Caliuana flag with pride!
Proudly screen-printed right here in the 707 Grow-Code by Wine Country Embroidery, (Santa Rosa, CA), we spared no expense in creating our terrific Tee's, (just like Boogie Tea). Our core materials are hemp, (black shirts by Royal Apparel™), and 100% organic cotton, (white cotton shirts featuring terrific quality from Harvest & Mill™ – printed by hand with eco-friendly water-based inks), allowing for a super soft feel and touch.
TO CLARIFY THE COST: We've already been asked about the premium nature of these shirts by customers and other vendors / grow-stores / clients, etc, all of whom have inquired, (POLITELY!), as to their cost….."Why does Boogie insist on printing such a high-end & premium product?"……..It's simple, we wanted our Tee's to be every bit as good as our Tea! (A tough demand to fulfill).
To such friendly feedback & criticism, we in turn must beg the question: Why would we degrade our OWN dedication to hand-crafted, heirloom & organic materials by selling out with mass-produced shirts printed on GMO cotton? Why bother even printing another crumby t-shirt containing single colors & logos along with boring "me-too" ag-industry graphics?
It's hard to describe the sheer quality; suffice to say that these are simply the FINEST of their kind…..Our shirts are incredibly comfortable: Compare the fit, form, texture and feel to any other; we guarantee you will never experience a more pleasurable garment to wear!